Birthers regularly allege that there is no proof that President Barack Obama was actually born in the United States. And yet most Americans, including the judicial system and the leadership of the Republican Party, are satisfied that he was. So what is the evidence that Barack Hussein Obama II was, in fact, born in Hawaii on August 4, 1961?
Hawaii was Obama's stated place of birth long before he ran for President. References in published accounts alone date back over twenty years. In February 1990, the New York Times ran an article about Obama being the first black man to be elected president of the Harvard Law Review. The second paragraph of the article described his life before Harvard, and closed with the sentence "Mr. Obama was born in Hawaii."

Several other newspapers across the country ran an Associated Press article that referred to "Mr. Obama, a native of Hawaii."
Three years later, in February 1993, the Chicago Tribune ran an article briefly profiling twenty-five rising young Chicagoans. Among those twenty-five was "Barack Obama. Attorney. 31. Born in Hawaii." When "Dreams From My Father" was released in 1995, the Los Angeles Times began its review by saying "A sharp eye and a generous heart distinguish this memoir by Chicago civil rights attorney Barack Obama, who was born in Hawaii in 1961 to a black African father and a white American mother and who became the first black editor of the Harvard Law Review." A decade later, during his campaign for the U.S. Senate, Obama received another profile from the New York Times, which described him as "the Hawaii-born, Harvard-educated son of a Kenyan and a Kansan."
Those are just a few examples of published news articles referencing Obama's Hawaiian birth, well before his run for the Presidency. But the earliest published accounts of any type saw print within a mere ten days of Barack's birth.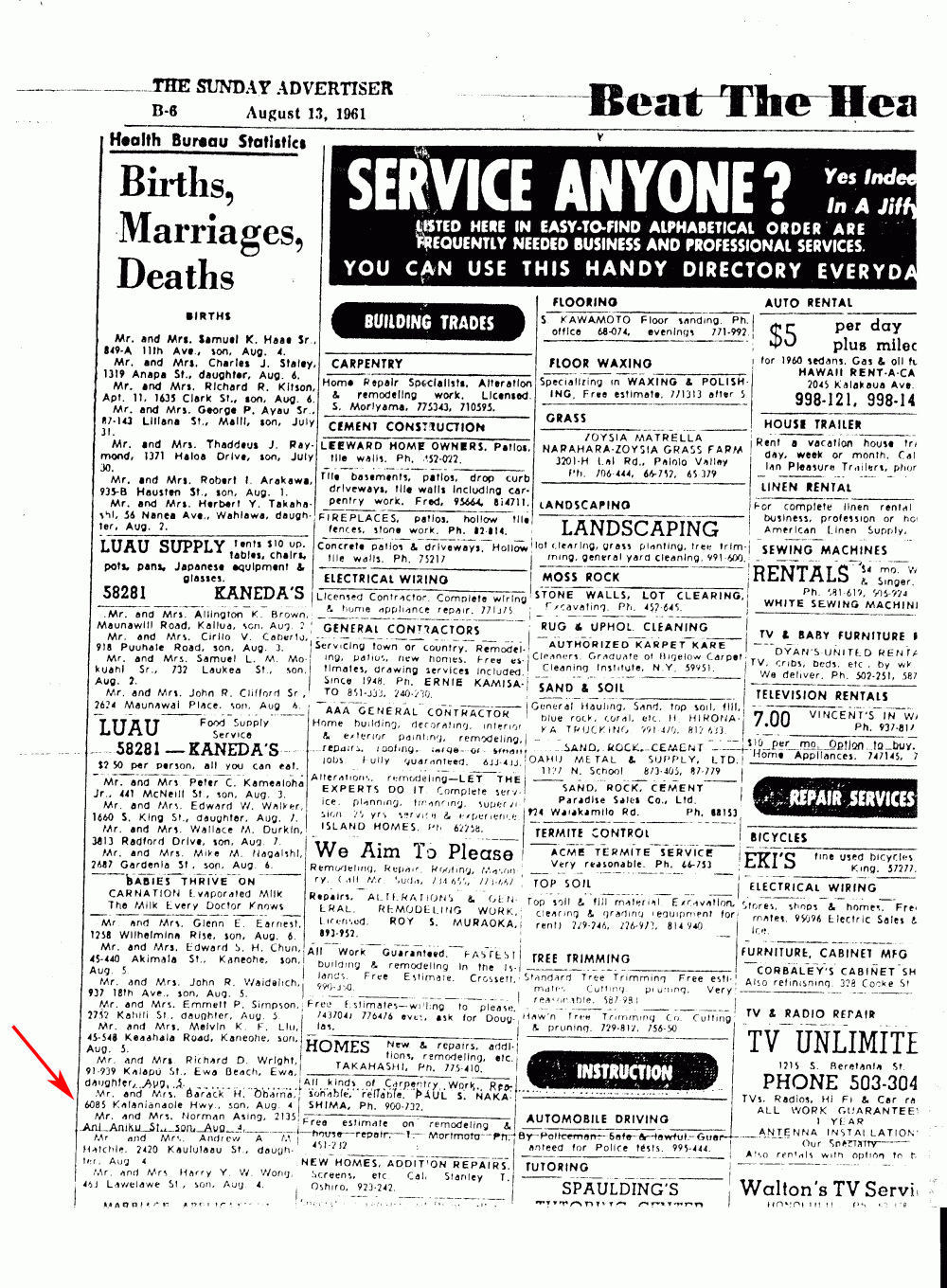 On August 13, 1961, the Honolulu Advertiser ran on page B-6 a column entitled "Health Bureau Statistics: Births, Marriages, Deaths." Nestled midway down the page was the humble announcement: "Mr. and Mrs. Barack H. Obama, 6085 Kalanianaole Hwy., son, Aug 4." An identical announcement ran in the Births column in the Honolulu Star-Bulletin the following day. As the title of the Advertiser column suggests, the data for both papers was provided by the Hawaii state health department; these were not paid notices or family-initiated listings.
The publication record of Obama's birthplace is thus both consistent and longstanding, dating as it does to within several days of his birth. But what about official government records?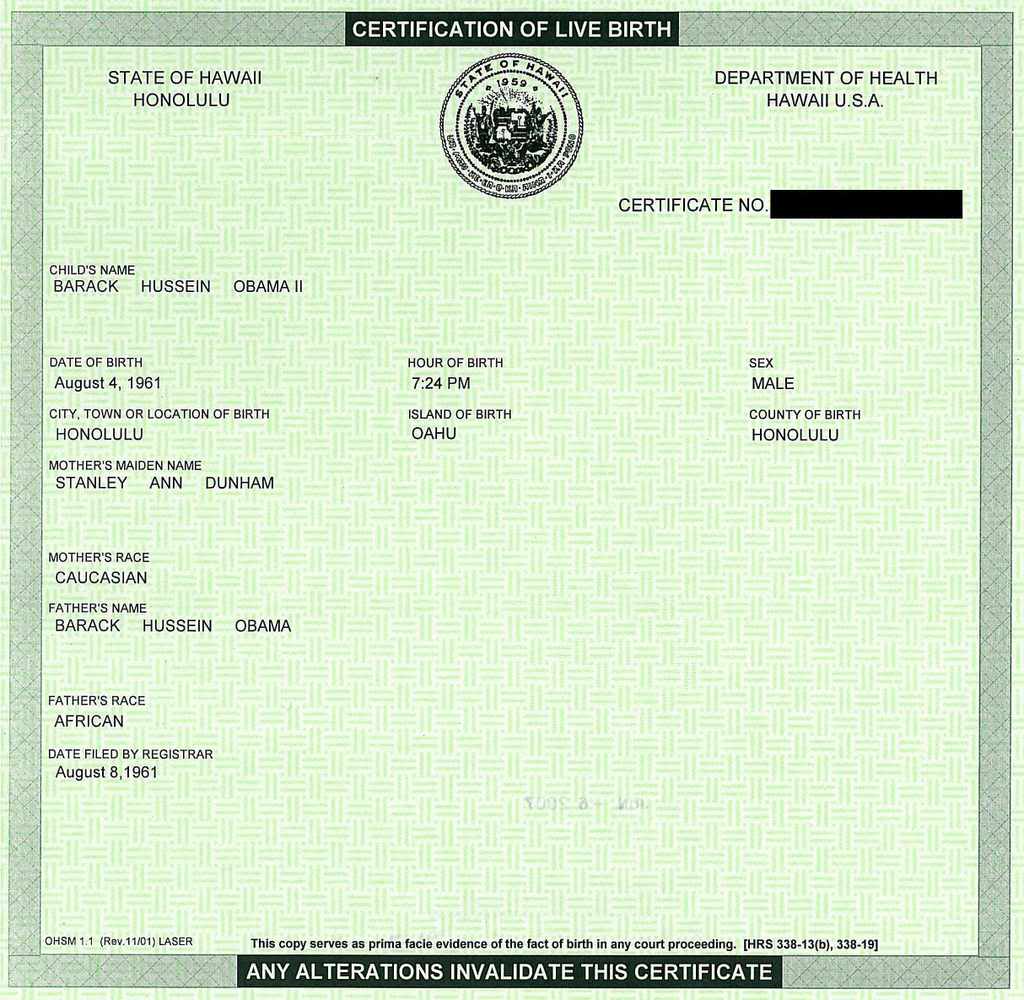 No small amount of internet rumormongering over Obama's birth followed Jim Geraghty's National post on June 9, 2008. Three days later, the Obama campaign moved to put an end to it. Markos Moulitsas, creator of the liberal blog The Daily Kos, had asked the Obama camp to release a birth certificate, and he received a reply that included a digital scan of Obama's Hawaiian Certification of Live Birth. The birth certification was posted on The Daily Kos the morning of June 12, 2008, and the same day it was also added to the campaign's new website FighttheSmears.com.
The Certification, issued by the Hawaii Department of Health, provided several points of confirmation for the skeptical. Child's name? "Barack Hussein Obama II." Date of Birth? "Aug. 4, 1961." City, Town or Location of Birth? "Honolulu." Island of Birth? "Oahu." County of Birth? "Honolulu." Date Filed by Registrar? "Aug. 8, 1961." Thus, it would appear that his legal name was confirmed, his birthdate was accurate, his birthplace was indeed in Hawaii, and the record of his birth was timely filed with the state.
When the online scans failed to convince the proto-Birthers who were beginning to coalesce, the nonpartisan website FactCheck.org asked the Obama campaign for permission to visit campaign headquarters in Chicago to personally examine the physical document. And in August 2008, FactCheck published the fruit of that investigation: nine high-resolution photographs showing the Certification from multiple different angles. As the FactCheck staffers reported and the photographs confirmed, the document was real and had all its security features, including an official signature and a raised seal.
Due to privacy laws, vital records in Hawaii are not available to any member of the public. That is why the Certification was released by the campaign, rather than directly by the state. However, the state of Hawaii does make available to the public "index data" of vital records, which is redacted information that includes only the name and sex of a given registrant, and the type of vital event for which Hawaii has a record. So although it cannot publicly release any original vital records of Obama's, the Hawaii Department of Health has released his index data. Which simply reads:
Birth Index
Obama II, Barack Hussein
Male
The Hawaii Department of Health has also taken a proactive stance toward affirming Obama's Hawaiian birth and debunking claims to the contrary. The Department website now includes a page devoted to answering frequently-asked-questions about just Obama. On October 31, 2008, Health Director Dr. Chiyome Fukino issued a press release affirming the existence of Obama's vital records in Hawaii:
I as Director of Health for the State of Hawai'i, along with the Registrar of Vital Statistics who has statutory authority to oversee and maintain these type of vital records, have personally seen and verified that the Hawai'i State Department of Health has Sen. Obama's original birth certificate on record in accordance with state policies and procedures.
Some nine months later, in July 2009, Dr. Fukino issued a second statement, in an attempt to better clarify the specific location of Obama's birth identified in those vital records:
I, Dr. Chiyome Fukino, Director of the Hawai'i State Department of Health, have seen the original vital records maintained on file by the Hawai'i State Department of Health verifying Barack Hussein Obama was born in Hawai'i and is a natural-born American citizen. I have nothing further to add to this statement or my original statement issued in October 2008 over eight months ago.
Various other records of President Obama's from outside Hawaii have further confirmed the facts of his birth. President Obama's official state passport gives his date of birth as "04 Aug 1961" and his place of birth as "Hawaii, U.S.A." A 1960s enrollment form from the Fransiskus Assisi school in Jakarta, Indonesia gave his birthplace as "Honolulu." His Selective Service application listed his birthdate as August 4, 1961, as did his Illinois driving record. On January 24, 2009, Obama sent a letter to Honolulu's Kapi'olani Medical Center, congratulating the hospital that he called "the place of my birth" on its centennial celebration. In 2009, the House of Representatives passed House Resolution 593, celebrating the 50th anniversary of Hawaii's statehood, and firmly declaring "Whereas the 44th President of the United States, Barack Obama, was born in Hawaii on August 4, 1961."
All of the above is just the positive evidence supporting the conclusion that Obama was born in Hawaii. The negative evidence pointing to the same conclusion is just as extensive.
Despite years of accusations and dozens of lawsuits filed, no credible evidence has been produced that suggests that Obama was born in Kenya or anywhere other than Hawaii. There are no records that Ann Dunham ever visited Kenya in 1961, or at any other time in her life. There are no eyewitness accounts of Ann in Kenya. There are no anecdotal accounts of her ever traveling to Kenya. There is no record of Barack Obama Sr. returning to Kenya in 1961; at least one newspaper article from 1962 suggests he had not been to his home country for several years. There have been no knowledgeable inconsistent accounts predating 2008, and no confessions of a cover-up. One could imagine a considerable list of potential evidence that would substantiate the claim of a foreign birth. No such evidence has materialized.
There is also the inherent absurdity of the alternative. Hawaii is, needless to say, remote. Travel is time-consuming and expensive, particularly to Africa. Honolulu is over 10,700 miles from Kenya, which actually makes Obama the President born the furthest from Africa. George W. Bush, by contrast, was born in New Haven, Connecticut, which is over 3,000 miles closer to Nairobi, and which is a mere 3,500 miles to Casablanca, Morocco in western Africa. How sensible does it sound to allege that George W. Bush was secretly born three thousand miles away on another continent? Now triple that distance for Obama.
And yet the Birthers' preferred hypothesis is not that Ann Dunham Obama merely left Hawaii to give birth near her old home in Washington state, or near her own birthplace in Wichita, but rather that she traveled halfway around the planet to give birth in a third-world city she had no ties to, and then snuck the child back into the United States. The Birther narrative can't even afford Ann an internally consistent motivation; they have her travel to Kenya because she supposedly wants her child born in Africa, and then they have her defraud Hawaii because she supposedly wants her child to be born in America.
There is, finally, a noticeable lack of expressed skepticism over Obama's birth by the people who would have had the greatest vested interest in having the rumors be true. Hillary Clinton ran a year-and-a-half long campaign for the Democratic nomination. She was long considered the frontrunner for the ballot, and spent over $200 million during the primaries. She refused to concede when Obama took a decisive lead in the delegate count, instead choosing to press on as a candidate until the nomination was mathematically clinched. And experience has shown that the Clintons will not shy away from being ruthless in their electoral maneuvering.
A secret foreign birth could have easily thrown the nomination to Hillary; a Constitutional disqualification definitely would have. But did Hillary Clinton ever offer a single indication that she questioned Obama's birth or Constitutional eligibility? No. Is there any evidence that her campaign even took such rumors seriously? Again, no. There is no person who had a greater motivation to utilize those rumors if they had any legitimacy whatsoever, and she never did. That silence says as much as any vital record.
Similarly, the Republican campaign of John McCain found no substance in the rumors either. Moreover, it's known for a fact that the McCain campaign was aware of the rumors about Obama's birthplace. They conducted their own internal investigation of the evidence, and dismissed the rumors as meritless. A McCain lawyer was quoted as saying, "We never saw any evidence that then-Senator Obama had been born outside of the United States. We saw rumors, but nothing that could be sourced to evidence. There were no statements and no documents that suggested he was born somewhere else. On the other side, there was proof that he was born in Hawaii." Consequently, rumors about Obama's birth and eligibility played no role whatsoever in either the primary or general elections.
Taken together, all of these pieces form a cohesive, consistent, well-evidenced and long-standing proof that Barack Obama was born in Honolulu, Hawaii on August 4, 1961. There were no scurrilous rumors circulating about his birthplace prior to 2008. There were no inconsistent narratives from Obama or his family over the decades. And all of the credible evidence concerning his birthplace points to the same conclusion: that he was born in Hawaii.